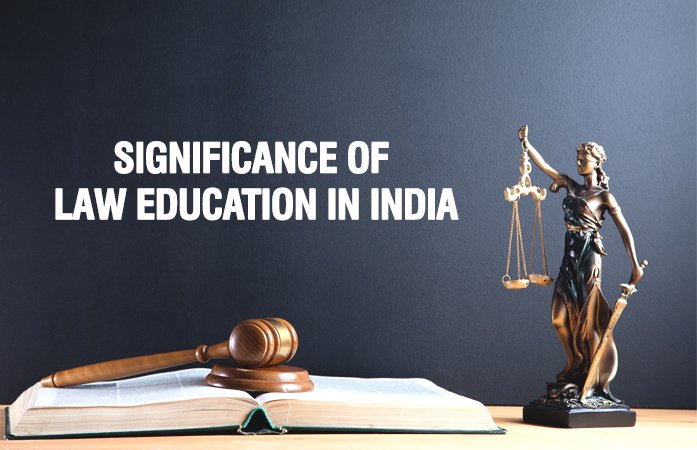 Significance of Law Education in India
Law graduates with the skills and discipline acquired on the completion of a professional bachelors program in law are well sought over 70% of graduate level potential job seekers of any other disciplines. Apart from having a substantial knowledge in the constitution and law of the nation, a law graduate has the capability to analyze, evaluate and present subject matter in a coherent structure. This skill equips law graduates for a wide range of opportunities other than practicing law in various private as well as public sectors. This include both state and central government jobs, business, academics, political strategy building, media and international relations.

For a student who wants to study law, it is vital to understand the intensity of competition in the field especially in the contemporary scenario of universalizing crimes. The key of success in becoming a lawyer is to conduct an early research, and to achieve considerable level of experience and enough contacts who can help you get business in the future. This aspect of the legal sector differentiates law students from those who pursue other disciplines in the university level. A law student must be organized and proactive if he or she wants to pursue a successful career in law. Choosing the right institute to study law gains relevance in such a scenario.

The "Law Commission of India" set up the guidelines for the University for Law Education in 1985 and following that 'National Law School of India University', the first law University in the country was formed in Bangalore. The UGC established a one-year LLM course in September 2012 and has proved to be a career-oriented academic program since then.

Law Courses after 12th

Law is regarded as a prestigious course that can be chosen after 12th. Students can take up the legal degree once they complete a graduation in any discipline. Those students who passed 10+12 can join for the integrated LLB which will be 5 years long whereas the one after the graduation is for 3 years. LLM is the master degree in legal profession with the option of one and two-year duration. Graduate studies in Law is a recent addition to the discipline. Apart from that student can also pursue PhD and also post graduate courses with specialties such as business law, family law etc. Some universities offer integrated MBL-LLM/ MBA-LLM which is again for 3 years. Those who wish to pursue the integrated course with a specialization in business, then opt for the MBL-LLM or MBA-LLM. It is a 3-year degree programme that can be done after the completion of the LLB. If you want to get admission in law, you need to appear for the CLAT entrance. CLAT is organized to select students to give admission to the National Law Universities (NLUs) and various other institutions.