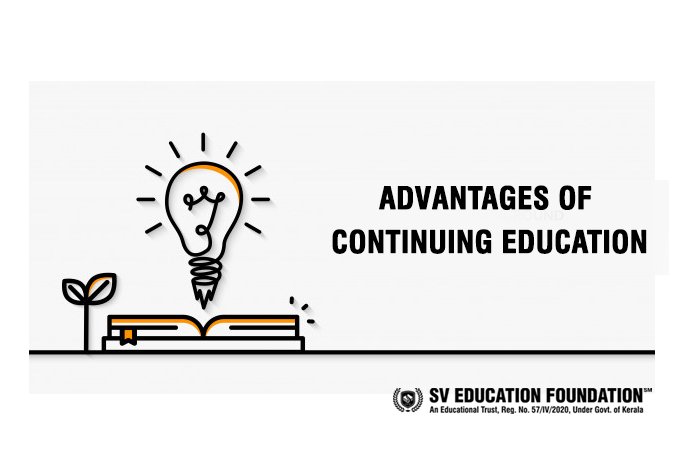 Advantages of continuing education
Education is one of the significant social institutions that causes nation-building and that frames the social as well as political ideology of many people in an effective way. With increasing levels and quality of education, culture and way of living of the individuals have considerately enhanced . It is considered as the key to success and foundation to innovative opportunities in the life of an individual. It enables students to make the right choices in every aspects of life. It also prepares people for life experiences. The education is expected to equip the students with socialization strategies, skills and knowledge which are necessary to lead a successful life.
Education is a process that transfers culture and civilization from one generation to another through teaching and training. Teachers are often considered the backbone of the process of education; without them there would be no education. Thus, understanding teachers' profession, its role and status is key to figure out the significance of educational system.
Profession is the term that specifies the vital activity created by division of labour required by social, economical and technological factors. Teaching profession began to develop with the emergence of education as a field of profession and vocation. It has originated from the social and economical changes that have arisen in societies. It can be described as a professional occupational group of education sector possessing social, cultural, economical, scientific and technological dimensions

Education is an institution that must to be accessible to everyone. This is one of the basic rights of any individual inhibiting any part of the world. But education for continuing years has far-fetched effects. At times, it is inaccessible or in many cases unaffordable for many. Then advent of internet revolution changed the way we see the world. The entire world is now a global village and the distances grew shorter. One could see or talk any person sitting in any remote corner of the world.

Technology advanced and it touched every sphere of the world. Education wasn't left untouched for obvious reasons. This is the time when online education and distance education came to fore. Every country could be imagined as a broad classroom where anyone from anywhere can acquire education. The phenomenon is still growing, getting more advances and people across the world are imbibing the many advantages it has to offer.

More and more people are inclined towards distance education because it enables hassle-free education for people who are not able to do it full-time for one reason or another. World's leading universities are doing their part and work on improving the distance degrees they provide. The advantages are more than the disadvantages.