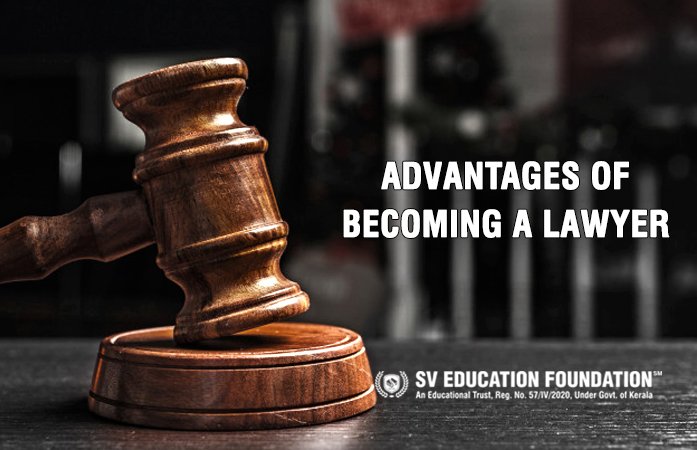 Advantages of becoming a lawyer
The relevance of being a lawyer is pretty exciting in both social as well as individual aspects of life. The legal profile involves several benefits and the following are a few advantages of becoming a lawyer.

Wide Selection of Career Options
Lawyers have opportunities not only in the law sector but also in several other fields such as academic, social work, commerce, industry, etc. Law has role in every field such as HR, Entrepreneurship or even in renting out a house.

Better salary and emoluments
Financial rewards of becoming a lawyer involve large flow of money with unlimited possibilities if you are a skilled and experienced lawyer. Getting a bachelors' degree in law indeed will not ensure immediate success and a high salary in the starting. But a lawyer can see good salary growth with years to come.


Work Environment
Work environment is one of the benefits that can be considered while choosing a legal career. Lawyers who work in law firms, government agencies, or corporations are usually provided with a formal office within the luxury of four walls.

Luxury of Independently Planning one's own Schedule
​While the job can be stressful, it is up to the lawyer to independently plan his/her schedule and determine performance tasks, workload, cost of his services. The profession comes with maximum freedom in time which cannot be guaranteed in any other job profile.

High level of Respect within Society
A degree in law prefixes the term advocate with one's name. With that prefix, a lawyer earns a considerable amount of respect from the fellow beings. It is visible with the examples several world leaders such as Barack Obama and Mahatma Gandhi. Since a the lawyer's job involves upholding of justice within the society and carrying the flag of justice makes the society respect a lawyer. People from all streams of life show admiration towards a lawyer.

Awareness of Rights and Responsibilities
What makes a lawyer unique is the awareness of the law of the nation that empowers him/her to execute and solve legal problems and supports promotion of consciousness of participation within the formation of laws and introduce legal culture within the society.

Intellectual Challenges
One of the many advantages of becoming a lawyer is the stimulation experienced by an advocate while working through the Constitution, complex legal theories, statutes and so on. Lawyers spend a lot of time researching and understanding the new laws and the amendments in the existing laws to equip themselves while representing their clients in the best possible way. A lawyer's career will be best suited for you only if you like studying law and learning something new every day unearthing nuances.