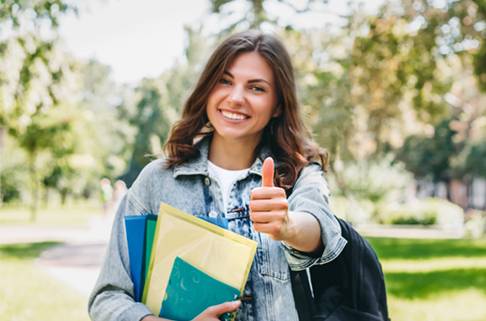 Students who could not continue or failed their Undergraduate and Postgraduate Academic programs from any recognized university can resume the remaining part of their respective programs under the credit transfer scheme. The prerequisite for UG and PG credit transfer is that the college or institution where you studied the course must be approved by the UGC. Students are allowed to transfer credits to the same academic disciplines they have enrolled in their former institution. For example, an MBA student can transfer credits only to a Business administration course and a Computer Science student can transfer credits only to study Computer Science in the new college or the University


Benefits of Credit Transfer
Complete your education and realize the dream of becoming a graduate or postgraduate
Obtain the eligibility for higher studies through Credit Transfer Scheme
Appropriate to get attestation of qualification for all GCC countries except Saudi Arabia.
It is also accepted in almost all European countries
Eligible for academic, professional and PR migration
You Can appear for UPSC, SSC and Bank test in Credit Transfer scheme unless it excludes the students who did not complete education in a single stretch
Under graduate students of BA and BSc, BCA, BBA, B. Com and BSW can complete their unfinished UG
Post graduate students of MA, MSc and M.Com can resume their dropped program of their previous university
Professional programs like MBA, MCA, MCJ and MSW are also available for credit transfer
Admission Process
At SV Education, we assist the students take admissions in Bharathiar University, one of the popular UGC approved universities in Tamilnadu. We assist students to achieve graduation in their desired and chosen academic disciplines in a different university if need arises. As a student of any recognized university or college, you can apply for a transfer of credits from your current university to a new university even if you have failed or discontinued the course. We offer service to the students to check their eligibility for university transfer, admission confirmation, application works and affidavit submission. Students are required to submit assignments, attend practical sessions, submit records and appear for term end exams and carry out the project as prescribed by the university with punctual modus operandi. The University will provide guidance and assistance in the course work. The term end exams and the Supplementary exams will be conducted as per the examination calendar of the varsity.
Things to Remember
Credit transfer is allowed only for the courses which are stated as Lateral Entry courses by the concerned universities.
Students must have 50% of the credit of the course in the previous university. All previous mark lists are mandatory.
Students should pay full course fee
Students must complete assignments, attend practical, carry out projects and appear for term end exams.
Students cannot change the subject or discipline if they want the academic credits to be transferred.